Limited time offer, for Ramadhan only!
Assalamualaikum wr wb Sisters <3
A third of the blessed month of Ramadhan has passed us by and we pray that everyone has had a wonderful month thus far! We know the going can get a littttleee tough during the middle of Ramadhan, so we're organizing a cozy get-together inshaAllah this Sunday, 19th May 2019.
This year's Ramadhan Qiyam ul-Layl (i.e. "sleepover" at the Masjid) will revolve around the theme of Minimalism, not just in our material possessions, but also in the matters of the heart and soul. From the sharing sessions by Hani and Aisah (@fictivefingers) as well as Ustadha 'Alimatunnisa and Ustadha Amirah, to an introduction to Solat Taubah and the night prayers in congregation, we hope you'll join us to learn more about what it means when less becomes more.
To register: click here.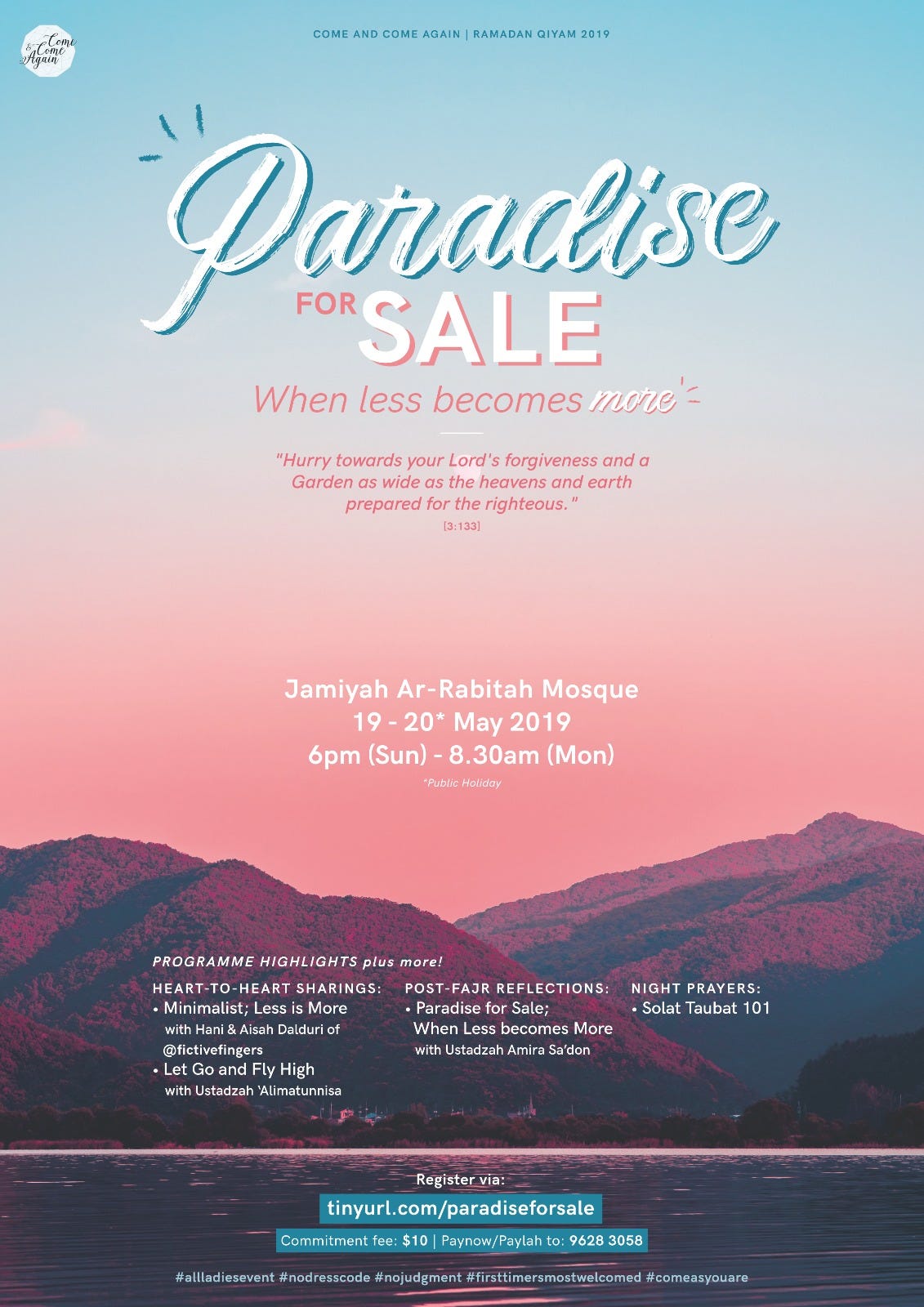 Some FAQs:
Q: Do I have to come by 6pm?
A: Nope! If you can only come after iftar / terawih with your fam, we totally understand. Registrations open at 6pm, and we're gonna recite some du'as together at 630pm while waiting for Maghrib. Iftar and terawih will be with the Masjid congregation, and the programmes will only officially begin at 945 pm! Just let us know in the registration form so we can prep food in advance.
Q: What if I'm having my time of the month?
A: Not a problem, some of the volunteers are having their time of the month too. The programs and night prayers are conducted in a classroom and not within the official masjid prayer spaces, so you can still come and learn a thing or two, inshaAllah.
Q: I've never slept at the Masjid…
A: And so did maaaany of the previous participants! Last year's qiyam had sisters in their 20s to their 40s who have never ever done a qiyam. Our ustadhas and volunteers will share with you exactly how to do your solats etc, inshaAllah. And you can always ask ANY of us.
Q: Any dresscodes?
A: Nopeeee. Come as you are, inshaAllah!
Q: Is it sisters only?
A: As always hehe!
Q: When is the last date of registration?
A: It'll be awesome if you can register by noon, Friday, so we can order enough sahur food for you, inshaAllah.
Q: How many people are we looking at?
A: Around 20-30 pax max, inshaAllah.
Just hit us back should you have any more questions, and if you don't have any, click here to join us!
Sincerely,
Come and Come Again